12. A Spitfire over Angmering completes a Tribute to "The Few"
In which I temporarily mislay the village of Angmering, but discover that I've finished and how all of this is, and always was, really about a brave young fighter pilot of 80 years ago.
(Part 12, the final part of a series on creating an original Battle of Britain oil painting.)
As I worked towards the completion of the landscape, I did discover one curved ball that I had pitched myself. I had worked along the road by the greenhouses in the middle distance, putting in the greenhouses and the row of what I think were recently (1930s) built houses on the golf course side of the road, having established quite happily the large amount of housing visible on the modern maps and views on the far side of the road were all a post war development. I had, however, thrown out the baby with the bathwater and completely forgotten to include the (at least thousand year old!) village of Angmering.
My apologies go to the residents of this fine old village. I think I had got so focused when doing my research on trying to establish which houses along the very visible foreground road were extant during the war, and then sidetracked by the history of market gardening around the village, that I forgot the village itself. The village, with its splendid (and all too visible) church tower, was unquestionably located just under Whall's Spitfire in the painting. As I had worked it up, I had just a nice open field and a couple of hedges in its stead, which helped provide some easy, contrasting and non- distracting light tones around the aircraft.
I had no choice but to carefully paint in a reasonably faithful representation of the village in place of the fields, tucked right in against the nearly finished lines of the Spitfire. As if this wasn't challenging enough, I needed to get it all in there without marring how the shape of the aircraft stood out against the rest of the canvas.
I am happy how it turned out in the end, and I think it actually helps draw the eye up and through the painting into the distance ... anyway far be it from me to wipe out an entire English village!!
The last part of the canvas to be painted up was some of the detail of the trees and bushes in the foreground and then there comes the "well, I'm pretty much there" phase.
I know at this point the work is largely all 'complete', but I now need to spend a little time looking at it and spotting tweaks that are needed here and there. I do find this a very hard phase of the work as changes feel increasingly high in stakes at this point. There are paintings where a very tweak here and there have altered the balance in a way I haven't liked and resulted in reworking substantial parts of the work to bring it back to feeling 'right'. So it is very much 'proceed with caution' at this point. The counterpoint to this is that sometimes a few changes towards the end of the painting have 'made' it, turning it from something that felt pedestrian into something I have been very pleased with.
In this work, I didn't feel it needed a lot. I decided to emphasise some of the reflections on Whall's Spitfire a little more, helping to break it out from the backdrop. I pushed a little more of that lovely lime green into the fairways of the golf course, helping to get a more saturated summer's day colour into them. There were, as there always seem to be, a few little anomalies that needed sorting. These are just those strange juxtapositions of things that do occur in real life, like when a random twig is behind somebody and makes it look like an aerial attached to the top of them! In real life, we move slightly and are able to sort out what is what, but on a canvas, these little quirks can distract from the painting's subject.
In this work, there was a little whitish break in the cloud behind Whall's aircraft which jarred and I needed to slightly soften some of the trees behind the Spitfire's starboard wing to stop them appearing, at a glance, to be 'attached' to the aircraft. My last task was to alter the shadow of one of the trees across the road in the centre of the painting, which had become slightly wrong in angle as the painting worked up.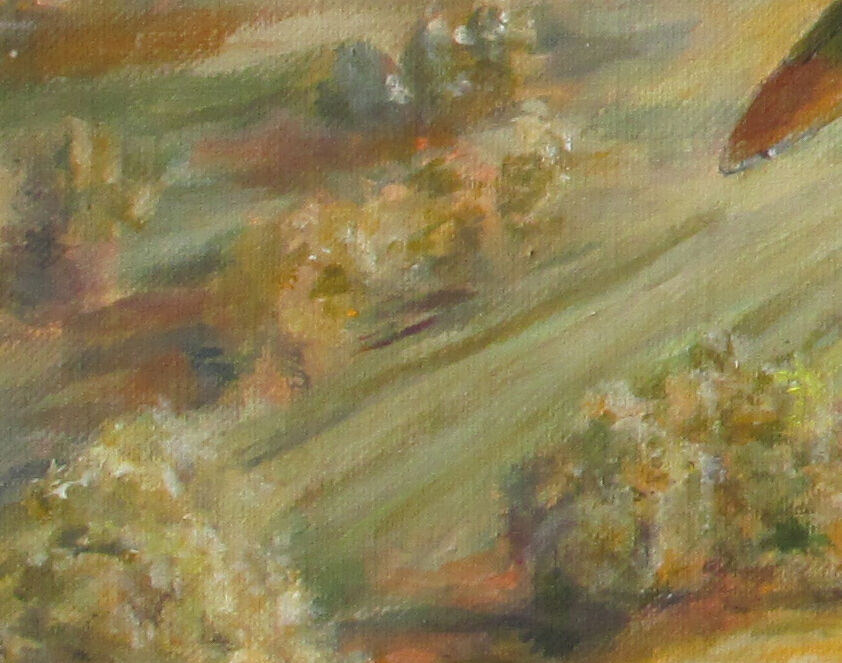 How do I know when it's finished? Well I think I usually do just know. I find myself wanting to create almost pointless tiny tweaks, and that is a strong hint. I usually take the painting into a completely different room and light at this point, which helps me kind of see it afresh. If I feel excited by it in this new light and don't suddenly pick out a load of problems, then I know it's probably done. I leave it out overnight, so that I get another 'new' view of it the following day as a final check. Then, after a couple of days out to enjoy it, I spirit it away to lie flat and dry for weeks and sometimes months, in a clean storage drawer. It will come out again to be photographed and then varnished.
Well, in the light of a new room, I was very pleased with this one, and no reworking called for. Around eighty hours of painting time spread over about three and a half weeks have gone into this painting, in addition to countless hours of research.
I like to think I have done justice to a moment in time. I wish I could hang it on my own walls but instead shall look forward to finding a buyer for whom the painting will mean as much as it does for me.
But, most of all, I think of that young man, 22 year old Sgt. Basil Whall, who exchanged the peace and quiet of a Buckinghamshire woodland for the fear and adrenalin of a Spitfire cockpit and lost his life in doing so. I hope the efforts I have poured in to the painting will help perpetuate his memory and all those like him, who died fighting for the freedom that we so easily take for granted today.